Philosophy
PAK OREGON's philosophy concerning information technology (IT) is fairly basic. Keep things simple and let someone else handle all the heavy lifting and utilitarian functions. The less you "own" the easier it is. Keep client owned hardware to a minimum and use as many open source tools and applications as possible. In today's IT environment most resources are "commodities" and can be provided by any one of many cost effective and reliable service providers. Most specialized hardware and software requirements are relegated to a handful of specialized designers.
Background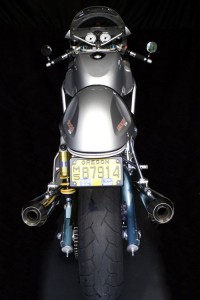 PAK OREGON was started in 2011 by Phil Krug, local Salem resident and retired State of Oregon Deputy Chief Information Officer. After his retirement in 2004, Under the name PAKBIKES LLC, Phil perused his passion with motorcycles, starting a small motorcycle accessories company that designed, manufactured and sold specialized taillight assemblies, The FLEDA Systems, for Ducati Sport Classic Motorcycles to over 250 enthusiasts worldwide. Three of Phil's systems were featured in the 2010 science fiction film, Tron: Legacy. Phil expanded his company to include the import and resale of additional specialized assemblies for Ducati Motorcycles. In 2009 Phil sold most aspects of his business to his partner in Southern California, but retains all the design responsibilities and rights to his original systems.
In 2010 Phil started volunteering his time and energies to the Salem Art Association (SAA) with their Project Space 2010 program and then became immersed in all aspects of SAA's information technology systems. Web site design, implementation and management, plus data & voice system design and management, plus end user client side design, implementation and management comprise the three legs of the stool he now finds himself perched.
Phil is a three term past President, 2010 – 2012, of Artists in Action, a nonprofit group of diverse, dedicated artists and artisans working to create stronger ties with each other and the communities of the Salem area.